No centerpiece is as lovely as a vase of freshly cut flowers.  Sure, you can pick up a bunch at most grocery stores, but who knows how long they've been sitting in that tub of water.  Wouldn't it be great to be able to walk into your own garden and cut a beautiful bouquet?  Here's how…
Site Selection: Choose a site with well-drained soil, plenty of sun and easy access to water. Prepare the soil by clearing the garden area of grass and weeds. Work organic matter, such as compost, into the soil.
Plant Selection: Decide on a color palette. It is best to include plants with different textures and of different sizes. Don't forget the greens! Add foliage plants for color and texture.
Harvesting the Flowers: Harvest flowers in the morning if possible. Cool air is better than hot afternoon sun for preserving fresh flowers. Use sharp scissors or cutting shears. If possible, choose flower stalks with a few buds that have not yet opened to prolong the life of your arrangement. Once you harvest your flowers, it is a good idea to give each stem a fresh cut just before placing them in the vase. It is best to make the fresh cut under running water to prevent air bubbles from getting into the vascular system of the stem and blocking water uptake. Cutting the stems at an angle will help them absorb more water. Remove any foliage that will be below the water line and place in warm water.
Caring for your Arrangement: The arrangement should be placed in a cool location, away from heat sources such as direct sunlight from a window, an oven, a heat vent, etc. The cooler the temperatures, the longer your bouquet will stay fresh. Using a floral preservative solution similar to the packets that come with flower arrangements can also help prolong the life of your arrangement. It is important to keep the water free from any leaves or plant material. Decaying plant material will clog the vascular system of the flower stems and cause them to wilt very quickly. Keep an eye on the water level of the vase. Fresh cut flowers can take up water at a surprisingly fast rate. Refill the vase before it runs out of water.
Common Cut-Flower Plants: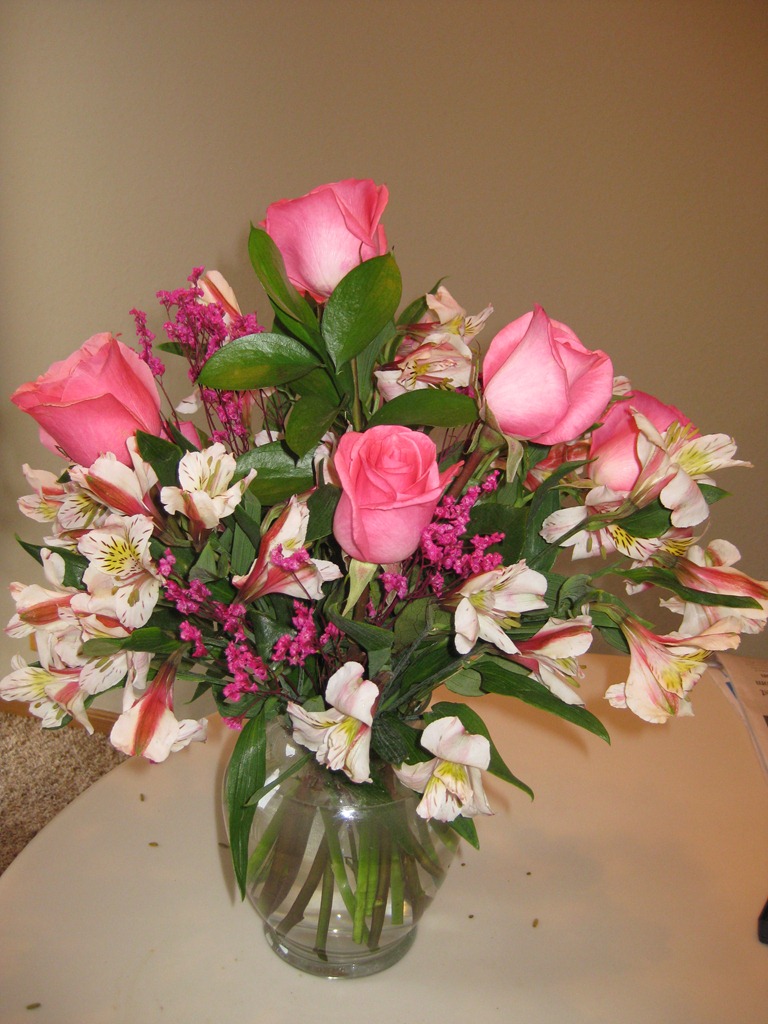 Primary flowers: sunflowers, gerbera daisies, spider mums, roses, hydrangea, lilies.
Accent flowers: alstromeria, delphinium, mini carnations, larkspur, asters, gladiolus,goldenrod.                                                               
Greenery: Lamb's Ear, lavender, Bells of Ireland, ornamental grass.
Enjoy your cut flowers!
Rachael and Tobias